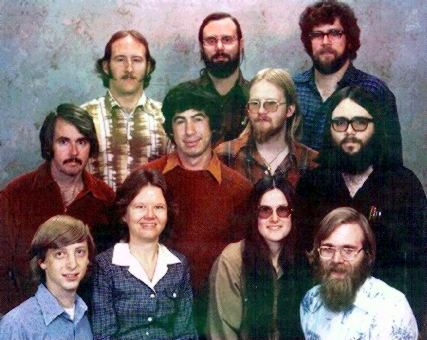 ...and doing some really cool shite with them.
WTF
seems to have taken a turn for the tech; which I suppose is to be expected given all the paradigm shifting going on at
D5
– two of which (shfting paradigms, that is) I just got turned on to today. [Thanx to Kit and John G, respectively. –
Ed.
]
The first is Microsoft's stunning new touch-top, 'coffee table'
display
called,
Surface
. [Yes, please. –
Ed.
] More videos in
this article
from
Popular Mechanics.com
.
The other, an application called
Photosynth
that aggregates web-based images (think,
flickr
) like never before – producing a whole that is vastly greater than the sum of it's parts. You've got to
watch the demo
to truly appreciate how (r)evolutionary, awe-inspiring and powerful Photosynth is. It's also worth watching
this presentation
of Photosynth's capabilities. (By way of
TED
.)
[
Apparently
the photo up top is a legit look at Microsoft circa 1978. –
Ed.
]